Alex Wood argues this morning's picket lines could mark a new era of labour organising.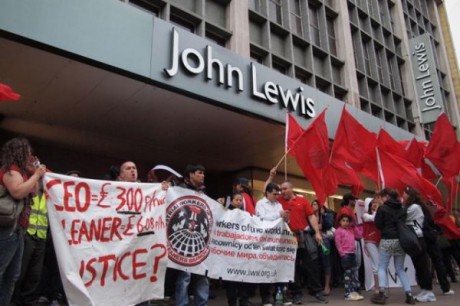 Today cleaners at John Lewis' flagship Oxford St. store have downed their mops and formed picket lines outside. This is the first time in its 148 year history that a strike has taken place at the store.
In 1920, upon taking over the shop from his father, John Spedan Lewis reconstituted the store as an employee owned partnership. Spedan had been horrified by his fathers exploitative employment practices under which employees were paid "hardly more than a bare living." Spedan believed John Lewis should be operated according to a principle whereby "partnership for all takes the place of exploitative employment". This 'John Lewis model' was hailed as a new dawn in employment relations and Spedan even titled his 1954 book 'Fair Shares: a possible advance in civilisation and perhaps the only alternative to communism'. The championing of John Lewis as an ethical employer continues into the modern day: just last week Nick Clegg promoted John Lewis' social responsibility and announced his hope for plans which would allow employees the 'right to request' a stake in the business.
Yet a century and half after being founded upon Spendan's belief in 'Partnership For All' the company now excludes many staff, such as cleaners, from being partners. Despite Spedan's insistence that "trade unions will still be needed", John Lewis refuses to recognise independent trade unions and has a reputation for being hostile to unions. Poverty pay is still a reality, not just for cleaners, but for many workers across the partnership – even when last year's annual bonus of 14 per cent is included. But John Lewis does represent a new dawn, just not the one suggested by the deputy Prime Minister. Rather the new dawn of renewed workplace agitation, organisation and unionisation.
Already excluded from being partners (and the benefits of an annual bonus, discount, pension etc), things for the cleaners got worse earlier this year when John Lewis decided to cut it's cleaning budget. In order to win the contract the cleaners' direct employer ICM made an overly competitive bid. In accepting such a low tender John Lewis made job cuts inevitable for the cleaners at their store. John Lewis can not eschew responsibility when it is their actions which are directly to blame for the harmful cuts at their flagship store. ICM informed the cleaners in May that they could expect around half of their jobs to go and those who remained would have their hours cut by 50 per cent. Meaning that the remaining cleaners would have had to increase the intensity of their work by a factor of four, for half the pay!
The cleaners affected had heard of other cleaners who, when facing similar exploitative conditions, joined the IWW. Around 200 cleaners across London have joined the rank-and-file focused union. Cleaners at John Lewis organised a campaign to put pressure on ICM. The first action took place at midday on Friday 22 July with a mass leafleting at the entrances to the flagship store, this was followed the next day by a large and extremely loud demonstration outside which was attended by over a hundred people. The next demonstration was called off in order to allow negotiations to take place in good faith. However, this was not reciprocated by ICM who refused to recognise the union for collective bargaining and rejected outright the union's demand that they end the practice of poverty wages and start paying the London Living Wage of £8.30. They, therefore, balloted for strike action, gaining a turnout of 80 per cent and 90 per cent voting in favour. Meanwhile, 19 MPs have signed an Early Day Motion of support.
This strike could have a wider impact than simply improving conditions at one store. In 1888 union membership accounted for a measly 5 per cent of the national labour force and not only liberal commentators, but socialists too, were of the opinion that unskilled workers (especially female workers) were too uneducated, powerless and helpless to be organised. They were ignored by the new labour and socialist movements which focused their efforts upon the labour aristocracy made up of male skilled workers in small craft unions. But on the 2 July 1888, 1,400 female low-skilled workers at the Bryant and May match factory in Bow walked out in response to the victimisation of one of their co-workers. The women organised their own publicity and created a strike fund from scratch – two weeks later the company caved in to all of their demands.
Just over a year later this inspired other 'unorganisable' workers, when London dockers working on a single ship went on strike, over the non-payment of their bonus. The strike quickly snowballed with 60,000 dockers and 60,000 workers in allied industries joining them on strike. Five weeks later, the owners caved into all of their demands and with this victory the era of mass general unions began.
Like the strikers at Bryant and May the cleaners on the picket line at 5.30 this morning maybe part of a new era of struggle amongst workers previously ignored by the mainstream labour movement.
---
Note: This post was originally published on Red Pepper on the 13th July 2012.